Just a week after scientists said huge cuts in carbon emissions were needed to protect the climate, a UK minister has shown just how hard that will be.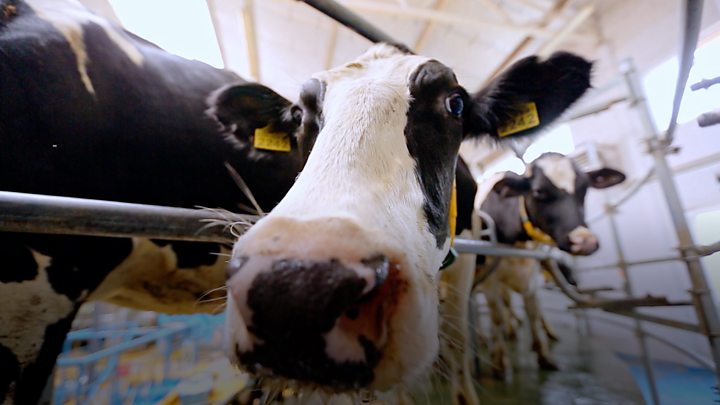 Scientists say we ought to eat much less meat because the meat industry causes so many carbon emissions.
But the climate minister Claire Perry has told BBC News it is not the government's job to advise people on a climate-friendly diet.
She would not even say whether she herself would eat less meat.
Ms Perry has been accused by Friends of the Earth of a dereliction of duty. They say ministers must show leadership on this difficult issue.
But the minister – who is personally convinced about the need to tackle climate change – is anxious to avoid accusations of finger-wagging.
Why Ms Perry wants to protect steak and chips
She said: "I like lots of local meat. I don't think we should be in the business of prescribing to people how they should run their diets."
When asked whether the Cabinet should set an example by eating less beef (which has most climate impact), she said: "I think you're describing the worst sort of Nanny State ever.
"Who would I be to sit there advising people in the country coming home after a hard day of work to not have steak and chips?… Please…"
Ms Perry refused even to say whether she agreed with scientists' conclusions that meat consumption needed to fall.
A dereliction of duty?
Craig Bennett from Friends of the Earth responded: "The evidence is now very clear that eating less meat could be one of the quickest ways to reduce climate pollution.
"Reducing meat consumption will also be good for people's health and will free up agricultural land to make space for nature.
"It's a complete no-brainer, and it's a dereliction of duty for government to leave the job of persuading people to eat less meat to the green groups."
He said the government could launch information campaigns, change diets in schools and hospitals, or offer financial incentives.
Ms Perry said: "What I do think we need to do is look at the whole issue of agricultural emissions and do a lot more tree planting.
"But if you and I eat less meat, with all the flatulent sheep in Switzerland and flatulent cows in the Netherlands – that will just be wiped out in a moment. Let's work on the technology to solve these problems at scale."
She said instead of cutting down on meat, we could use (hugely expensive) equipment that sucks CO2 out of the atmosphere.
Supper with the Perry family
Ms Perry said later that her own typical family meal is not steak and chips, but a stir-fry, which brings the taste and texture of meat into a dish dominated by vegetables. But she did not want to say this on camera.
She agreed it was appropriate for the government to advise people on healthy diets because the obesity epidemic is costing taxpayers more in health bills, but implied that this principle did not apply when considering the health of the planet.
Her fear of being condemned in the media as a bossy politician highlights the difficulty of the next phase of climate change reductions.
Until now, 75% of CO2 reductions in the UK have come from cleaning up the electricity sector. Many people have barely noticed the change.
Will the climate battle get personal?
Experts generally agree that for healthy lives and a healthy planet, the battle over climate change will have to get personal.
That could mean people driving smaller cars, walking and cycling more, flying less, buying less fast fashion, wearing a sweater in winter… and eating less meat.
People will still live good lives, they say, but they'll have to make a cultural shift.
If governments do not feel able to back those messages, they say, the near impossible task of holding global temperature rise to 1.5C will become even more difficult.
Ms Perry's comments came as she launched Green GB week, which aims to show how the UK can increase the economy while also cutting emissions.
She will formally ask advisers how Britain can cut emissions to zero.