"We have a right and duty to rebel in the face of this tyranny of idiocy—in the face of this planned collective suicide."
To underscore the planetary emergency and denounce the U.K. government's inaction on the climate crisis, a new group calling itself Extinction Rebellion rallied over 1,000 people to block Parliament Square in London on Wednesday. The direct action marks the launch of a mass civil disobedience campaign, with the group issuing a "Declaration of Rebellion" against the government because the activists "refuse to bequeath a dying planet to future generations by failing to act now."
Police arrested 15 people taking part in the action, but organizers say the wrong people were taken into custody. "If we lived in a democracy," Extinction Rebellion declared in a tweet, "the police would be here to arrest the criminal politicians who are wrecking the planet."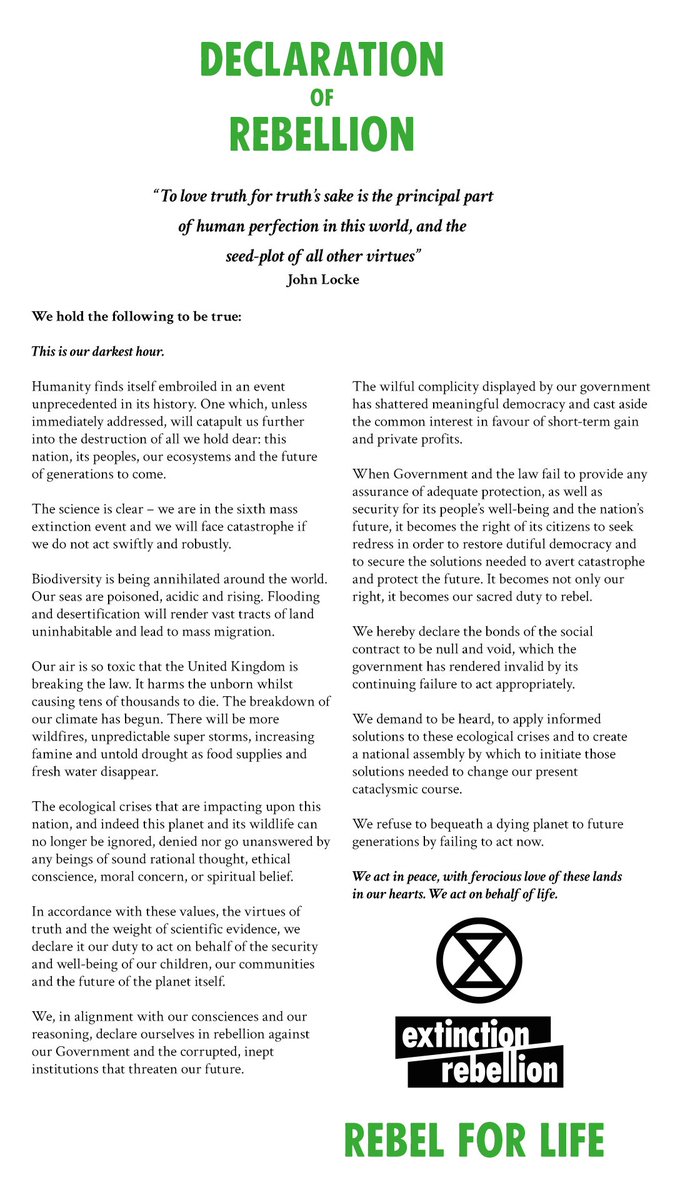 Noted speakers at the action included Green Party MP Caroline Lucas, journalist George Monbiot, and 15-year-old Greta Thunberg, the Swedish schoolgirl "on strike" from school over her own government's climate inaction.  "We're facing an immediate unprecedented crisis that has never been treated as a crisis and our leaders are all acting like children. We need to wake up and change everything," she stated.
Green Party MEP Molly Scott Cato took part as well. In an op-ed at the Guardian, she explained that she felt there was no alternative to being a lawmaker turned law-breaker. "We are prepared to halt lorries entering fracking sites; to stand in the way of bulldozers building roads and block traffic along heavily congested and polluted streets. Direct actions like these have a long and proud history; it's time to carry them through in a systematic way to protect the climate, and to be willing to be arrested for doing so."
Pointing to the latest IPCC report and the World Wildlife Fund's latest assessment of the Earth's declining biodiversity, she added, "It is no exaggeration to say that our survival as a species is at risk. Enough. Enough of words; of hypocrisy and broken promises. It's time to act."
The #ExtinctionRebellion are doing this for your future. This is a climate emergency. The UN says that we are almost out of time and the UK government is failing us. Rebel for life with us.
The declaration declares, in part: "The ecological crises that are impacting upon this nation, and indeed this planet and its wildlife can no longer be ignored, denied, nor go unanswered by any beings of sound rational thought, ethical conscience, moral concern, or spiritual belief. "
As such, we "declare ourselves in rebellion against our government and the corrupted, inept institutions that threaten our future," it continues.
They charge they government of having "wilful complicity" that "has shattered meaningful democracy and cast aside the common interest in favor of short-term gain and private profits."
"This is our darkest hour… The science is clear—we are in the sixth mass extinciton event and we will face catastrophe if we do not act swiftly and robustly."
—Declaration of Rebellion"This is our darkest hour… The science is clear—we are in the sixth mass extinciton event and we will face catastrophe if we do not act swiftly and robustly."—Declaration of RebellionThe declaration, said noted U.S. climate activist and author Bill McKibben, "should ring true not just for Brits, but for Americans (who have a declaration in their past) and for people anywhere."
Wednesday's action was far from the end of the road for Extinction Rebellion; they've got a week of action lined up for mid-November in London if their three demands— that the government openly communicate the severity of the crisis and urgency for change; enact legally binding policies to slash emissions; and allow for a Citizens' Assembly to monitor and hold government to account for enacting to "the bold, swift, and long-term changes necessary"—aren't met.
"This is just a warm up. Rebellion Day is on November the 17th. Same time, same place," the environmental group, which is backed by nearly 100 leading academics, tweeted.
The escalating actions, they say, are because we "are raging against this madness and our hearts are breaking."
"We have a right and duty to rebel in the face of this tyranny of idiocy—in the face of this planned collective suicide."
"We are going to act," the group says, "and in acting together we will overcome."