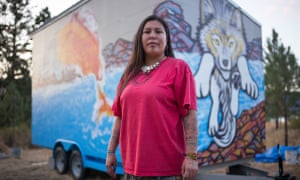 Secwepemc activist Kanahus Manuel in front of a tiny house being built in the path of Kinder Morgan pipeline's planned route through her Nation's territory in British Columbia, Canada. Photograph: Ian Willms/Greenpeace
The controversial expansion of a pipeline that would carry tar sands crude from Alberta to British Columbia's coast will be doomed by the rising power of Indigenous land rights.
That's the message that Kanahus Manuel, an Indigenous activist from the Secwepemc Nation in central BC, plans to deliver to banks financing the project as she travels through Europe this week.
She'll have in hand a report being released today by the Indigenous Network on Economies and Trade, which argues that Texas-based Kinder Morgan has misled financial backers about the risks of expanding its TransMountain pipeline, almost half of which runs across "unceded" Secwepemc territory.
The project, whose cost has ballooned from $5.4 to $7.4bn, would nearly triple capacity on an existing pipeline to ship 890,000 barrels a day to Asian markets, locking in expanded production of one of the world's most carbon-intensive oils.
The report details "significant legal, financial and reputation risks" that amount to "serious obstacles" it says have been downplayed by Kinder Morgan in its dealings with Canadian and international banks.
The key risks, identified by economists and lawyers based on the pipeline's history, Canadian legal precedents, and financial documents, include Kinder Morgan's plans to build on lands whose ownership is hotly contested.
The pipeline crosses 518km of Secwepemc territory over which the First Nations assert Aboriginal title, a type of land rights that the supreme court of Canada has recognized were never ceded or relinquished through treaties.
TransMountain pipeline's route through the Secwepemc Nation in British Columbia, Canada.
The Secwepemc could not oppose the original Trans Mountain pipeline being built through their territory in 1951, because it was illegal at the time for Indigenous peoples to politically organize or hire lawyers to advocate on their behalf.
"[Kinder Morgan] either does not understand the diverse realities of Indigenous rights in Canada or they are wilfully ignoring the consequences of those rights for the project," the report says. "Either way, it should be a major red flag for investors, lenders, and other financial backers."
Kinder Morgan did not return a request for comment.
Banks are increasingly rethinking their investments in the tar sands – French bank BNP Paribas pledged last week to stop financing pipelines carrying tar sands oil, following similar moves by Dutch Bank ING and Sweden's largest pension fund AP7.
The report also notes that the likelihood of increasing Indigenous protest has not been accounted for by the company.
Inspired by her time at the Standing Rock encampment, this fall Manuel and others finished constructing the first of several tiny houses – to be outfitted with solar-panels – that they will place in the path of the pipeline as an act of defiance.
"We will defend with all of our capacities our unceded lands and waters from this climate chaos-fuelling pipeline," Manuel said from Europe. "The government has to follow the minimum standards laid out in the United Nations Declaration on the Rights of Indigenous Peoples – that includes free, prior and informed consent, which they have not gotten from us for the project. Instead Kinder Morgan is hiding the risks and the costs their backers will face when this pipeline doesn't get built."
Kinder Morgan's initially estimated the pipeline would be in operation by late 2017, but delays have pushed back the date to spring 2020.
Each month of delay costs the company $5.6m in expenses and $88m in lost revenue, according to an affidavit Kinder Morgan filed in court during a stand-off near Vancouver in 2014, when 100 Indigenous and non-Indigenous activists were arrested trying to block exploratory drilling by the company.
The pipeline project has the backing of the Alberta government and prime minister Justin Trudeau, whose natural resources minister has previously suggested the government could call in the Canadian military to deal with protests, evoking the prospect of what First Nations leaders have labelled a "Standing Rock of the North."
The Trudeau government approved the pipeline in 2016, but the recently-elected NDP provincial government in BC has said it "would employ every tool available" to stop it. Both governments have committed to implementing the United Nations Declaration on the Rights of Indigenous Peoples.
The BC government joined as an intervenor in federal court of appeal hearings last week, supporting legal challenges against the pipeline launched by First Nations closer to the coast, municipalities, and environmental organizations.
The report comes on the heels of TransCanada withdrawing its application to build Energy East, the largest proposed tar sands pipeline that would have carried 1.1m barrels daily to the east coast.
It was hobbled by political protests, as well as the recent introduction of a "climate test" that would evaluate how the project might impact Canada's overall carbon emissions.
Research by the Canadian Centre for Policy Alternatives has found that Canada cannot build new tar sands export pipelines and expand production and still hope to meet its Paris accord climate commitments.