The outcome of this election is of utmost importance to Kinder Morgan shareholders.
In the following article we analyze the current state of affairs and come to a conclusion for concerned dividend growth and income investors.
Seeking Alpha May 9, 2017 |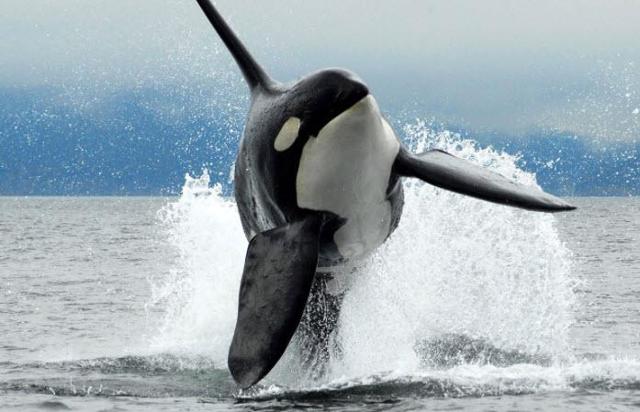 What's happening?
There is an election in British Columbia going on today that could have a huge impact on Kinder Morgan's (NYSE: KMI) stock tomorrow. British Columbia Premier Christy Clark, of the Liberal Party, who favors the Trans Mountain Expansion Project (TMEP) and has pushed to expand oil pipelines and develop the liquefied natural gas industry on Canada's Pacific Coast, is at risk of losing the election.
Clark went from having a commanding lead in the polls to being 1% behind today with John Horgan, who vows to turn back the clock on energy projects. According to the news report:
"Horgan and the New Democratic Party (NDP) which has pledged to impose a 2% tax on real estate "speculators," kill Kinder Morgan's Trans Mountain oil pipeline, and wants Malaysia's Petronas to find a new site for a proposed $27B liquefied natural gas export terminal."
Horgan went on to say:
"We will use every tool in our toolbox to stop the project from going ahead."
The NDP platform states of TMEP:
"A seven-fold increase in tanker traffic and environmental risks outweighs the benefits to the province."
The election starts at 8:00 am pst and ends at 8:00 pm pst. Even so, I am sure we will know the results prior to 8:00 pm. If Clark wins, Kinder Morgan's stock should be fine. Yet, if Clark loses, it could be very bad news for the stock tomorrow. There was some heavy selling over the past month. The stock is down 7% and looks broken technically.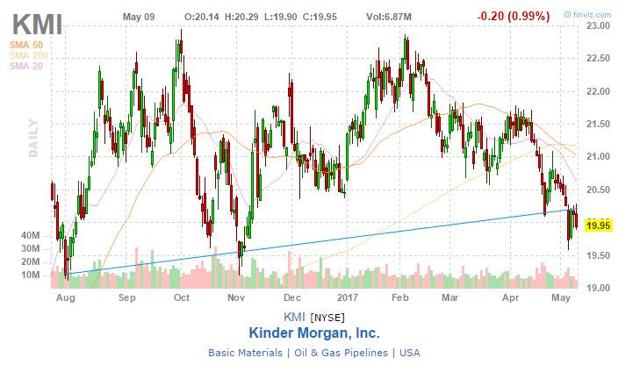 Source: finviz.com
It is interesting that this coincides with Clark's falling poll numbers. According to a recent Bloomberg report, Clark's incumbent party is the most disliked at present.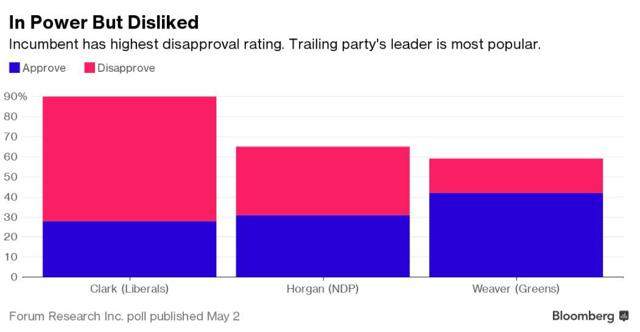 Source: Bloomberg.com
I feel Clark's reign is about to end. But first let me explain why the TMEP project is so important to Kinder Morgan.
Why is TMEP such an important project for Kinder Morgan?
In my latest call with Kinder Morgan investor relations, I asked which backlog project was the most important project for Kinder Morgan. The answer was, of course, the TMEP. Here is why.
What many fail to realize
The TMEP is very important to Kinder Morgan's growth and more importantly, its cash flow. Many are not aware the TMEP represents an increase in cash flow of six times what it currently generates on only a threefold increase in capacity.
But how you say?
The financial windfall for Kinder Morgan was approved by the NEB and effectively doubled the toll rates charged on the current pipeline volume. So it's very important to increasing Kinder Morgan's ability to pay down debt and increase the dividend. Presently, the project represents nearly 50% of the capital spending Kinder Morgan identified for 2018 and beyond. Nonetheless, the investor relations team felt confident the company would do just fine if the project were shuttered and stated:
"It would certainly be a major setback, but with ground not broken yet KMI could direct most of the cash we would use for this project to other projects."
The investor relations team indicated only $600 million in sunk costs on TMEP presently. Furthermore, investor relations stated Kinder Morgan had contracts in place with shippers to recover a portion of the costs if the project were canceled. I'm glad to hear this for long investors. Nevertheless, I posit a loss by Clark tonight will be bad news for the stock tomorrow. There are three main points that make me worried she may not be reelected.
The environmental opposition is fierce
The environmental opposition states the implementation of the TMEP would sound the death knell for endangered whales living in British Columbian waters. According to a recent article on the subject Kristen Monsell, a staff attorney with the Center for Biological Diversity in Oakland, CA, stated:
"We are significantly concerned about this project and its impact on the Southern Resident killer whales. They are already teetering on the brink of extinction and the last thing they need is hundreds of loud oil tankers carrying millions of gallons of dirty oil through their habitat. Extinction is almost a certainty."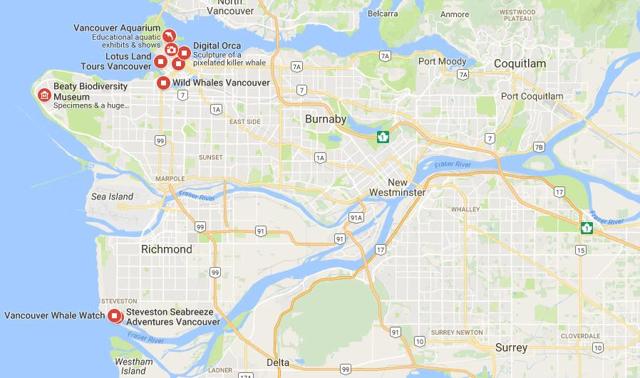 I see this as the primary environmental bottleneck for the project. It is true that a majority of the pipe and other infrastructure on land will be placed in areas already designated with a right of way. Essentially, the company plans on twinning the pipe. Yet, a sevenfold increase in tanker traffic will occur. Kinder Morgan states the project would increase the number of tankers destined for Vancouver's Westridge Marine Terminal to about 34 a month from five. Biologist Misty MacDuffee of the Raincoast Conservation Foundation stated regarding the increased traffic and whale population:
"These whales are on a precipice right now, they can go one way or the other. If we specifically look at the noise increase from Kinder Morgan tankers, it sends them in the wrong direction – it sends them in the direction of extinction."
MacDuffee went on to say:
"Beyond the noise threat that would interfere with the whales' communication and ability to find food, an oil spill would be catastrophic."
This sounds like a situation that Kinder Morgan cannot solve. There is no two ways about – tanker traffic is going to increase tremendously. This leads me to my second point. British Columbia's environmentalist bent.
Green population
This is a complete assumption on my part. Nevertheless, I feel the population of British Columbia will vote against Clark based on the fact the tanker traffic could put the whales at risk for extinction. I see British Columbia following along the lines of California here in the states. I don't see Clark holding on to office due to her backing the TMEP and the controversy over campaign contributions.
Campaign contribution controversy
According to a recent news article:
"Paving and road maintenance companies that donated to the B.C. Liberal party received nearly twice as many contracts from the provincial government on average than companies that did not donate, according to an analysis by The Dogwood Initiative."
In fact, as of today, Clark has returned nearly $250,000 in improper donations following a Globe and Mail investigation that revealed lobbyists were making contributions before being reimbursed by clients. The article states:
"Clark has also come under fire for inaction on fundraising laws, which place no limits on contributions. She's now promising to appoint a panel to review the rules. The NDP and Greens want a ban on corporate and union donations."
The Bottom Line
I submit the elections today in British Columbia should be of major concern to Kinder Morgan shareholders. The importance of the TMEP has been played down by many here on Seeking Alpha, yet I submit it remains the company's top priority. If I were looking to start a position I would definitely wait for the results to be announced. With a current yield of merely 2.5% and the stock technically broken I see no reason to stick your neck out ahead of the results. If you are long the stock, you may want to consider taking on some type of protection. If you are still bullish on the stock here, you can look at any potential dip as a buying opportunity. Those are my thoughts on the matter. I look forward to reading yours. Please use this information as a starting point for your own due diligence.
Your input is required!
The true value of my articles is provided by the prescient remarks from Seeking Alpha Members in the comments section below. Do you think Kinder Morgan represents a buying opportunity at the current share price? Will Clark win the election? Thank you in advance for your participation.